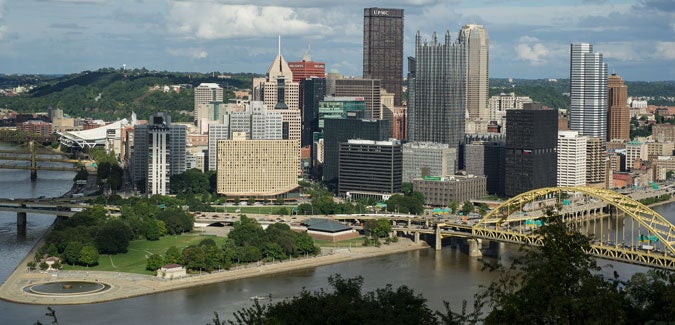 A Panther Card (Pitt ID) has its perks. Pitt's fare-free agreement with Port Authority Transit enables you to travel off campus and out of Oakland via Port Authority buses, trolleys, and inclines within Allegheny County fare-free, 24 hours a day, seven days a week, 365 days a year.
Things To Do 
Want to get out of Oakland? Here are some popular off-campus destinations.
The Waterfront
This mecca of shopping, movies, food, and nightlife is an easy ride away on the Port Authority's 61C bus.
Kennywood
Enjoy Kennywood's coasters, games, and thrill rides. It's a 20-minute ride away on the Port Authority's 61C bus.
Strip District
Take the Port Authority's 54C from Oakland to the Strip District for nightlife, shopping, outdoor markets, and warehouse values on many varieties of foods and products.
South Side
Lots of unique retail shops, galleries, and restaurants. A prime nightlife center with great live music, a thriving arts community, and small-scale theater. The Port Authority's 54C bus provides transportation 24 hours a day.
North Shore
Watch a Pirates, Steelers, or a Panther's football game, visit the Veterans Memorial, or shop. Travel to Pittsburgh's North Shore with the Port Authority's 54C and the 500.
Squirrel Hill
The Squirrel Hill area has lots of bookstores, eateries, and clothiers. Hop on Port Authority's 61A, 61B, and 61C buses.
Pittsburgh Zoo & PPG Aquarium
Spend a day at the Pittsburgh Zoo & PPG Aquarium. Get there via the Port Authority's 500 bus.
Other Attractions
Visit the Port Authority for schedules and routes to other area attractions including Station Square, the inclines, Mount Washington, Point State Park, and the suburban areas.