University of Pittsburgh Shuttle Routes
Can you get there from here? Here's the complete list of stops, times, and route maps for University of Pittsburgh buses and shuttles.
To view PDF files, you'll need a copy of Adobe Acrobat Reader. Don't have it? Download a free copy from Adobe.
Fall and Spring Semester Schedules 
If road conditions deteriorate the 10A is most affected - Upper Campus (Allequippa St & Univ Dr) will not be services until passable.
10A Winter Route:
Start at Cathedral of Learning
Straight on Bigelow Blvd to O'Hara St
Left on O'Hara St to Desoto St
Left on Desoto St
Right on 5th Ave
Left on McKee St
Left on Forbes Ave (back on route)
Summer Schedules
Pitt Students: Find Bus Times by Ride Systems GPS
Ride Systems GPS provides transit riders with next bus times by smartphone applications. Find stops and scheduled arrival times for your desired route.
Smartphone Apps For iPhone & Android OS
Download our GPS App for your Apple or Android Phone
Search "Ride Systems" in your App Store or Market
Select "University of Pittsburgh"
Select "route" tab
Select  "Arrival" tab for times.
No Apple or Android Phone? That's okay. You can also view bus times in your browser and enjoy the same features.
DisABILITY Shuttles provide safe, convenient transportation for students, faculty, and staff with temporary or permanent disABILITY. To be eligible, riders must submit documentation of a physical disABILITY that indicates their need to use the DisABILITY Shuttle.
SafeRider
SafeRider provides safe transportation during the evening and early morning hours when special, nonemergency needs arise for students, faculty, and staff.
Call 412-648-CALL (2255) for your safe ride.
Bigelow Boulevard Closures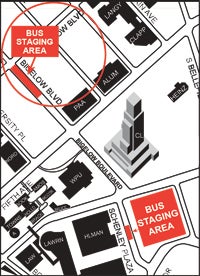 Bigelow Boulevard may be closed from time to time throughout the year, due to special events such as the annual Bigelow Bash or football. 
In these instances, all buses and shuttles, except the 30A, will pick up or drop off passengers across the street from the Soldiers Sailors Memorial near the Oaklander Hotel on Bigelow Boulevard as noted in the map to the right.
Public Transportation
Port Authority Transit provides fare-free service throughout Allegheny County, including Oakland and Pittsburgh. Check their online schedules. Be sure to have your Smartcard Pitt ID for the new Tap and Go feature on all PAT services.
For your convenience, we have made a short list of popular local destinations.
Chatham Shuttles & CMU Shuttles
Pitt students with a valid Panther Card are eligible to ride the Chatham University shuttles and CMU shuttles at no cost after 7:00pm on weekdays and anytime on weekends.