Frances Warde and Dougherty Halls
3333 Fifth Avenue, Pittsburgh, PA 15213

| View Map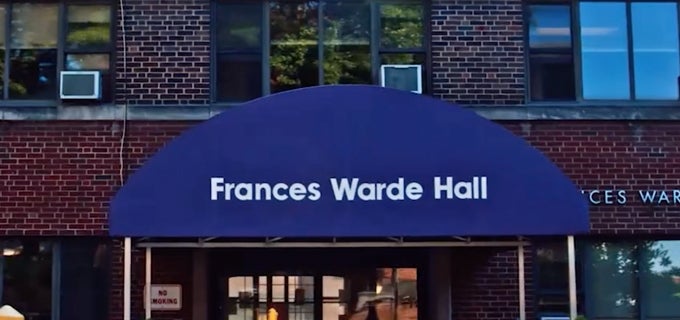 Student Population: First Year
Room Type: Double, Triple
Housing Type: On Campus Housing
Details
Laundry on each floor
Air conditioning
Communal bathrooms
Wi-Fi available
Microwave and refrigerator provided in each room
24/7 security
Description
Frances Warde Hall and Dougherty Hall provide safe, convenient housing dedicated to students. These Pitt partner properties are located next to Carlow University and are connected to one another through a common lobby area. Pitt students will reside on floors 1 and 2 in Frances Warde Hall and floors 9 and 10 in Dougherty Hall. A Pitt resident director and four Pitt resident assistants (one on each floor) are on staff.
Room Information
| | | |
| --- | --- | --- |
| Accommodation | Rate Per Semester | Meal Plan Required |
| Double | $3,357 | Yes |
| Triple | $3,692 | Yes |
Rates are subject to change.
Frequently Asked Questions
Where on Carlow University's campus are Pitt's students living?

Pitt first-year students will fully occupy floors in Frances Warde Hall and Dougherty Hall located on the campus of Carlow University.

Why are students being housed on the Carlow campus?

Approximately 130 first-year Pitt students will be housed at Carlow University for the 2022–2023 academic year to support record enrollment levels and associated high housing demand.

Why Carlow?

After a comprehensive assessment of options, the University selected student housing at Carlow based on the established community partnership between the two universities, proximity to Pitt's campus, and resident amenities. Hotels were utilized in the past, but these were unavailable for student occupancy for the academic year. We look forward to providing a positive resident experience through the use of student housing accommodations at Carlow.

Will the Pitt experience be different for those students housed on the Carlow campus?

No. The Pitt students living in Frances Warde Hall and Dougherty Hall will have a complete Panther student experience including Pitt Resident Advisors and Pitt student life activities, and 24/7 security at building entrances.

Isn't Carlow far from Pitt's campus?

No. Carlow University is located less than a mile from Pitt's campus on Fifth Avenue – a short 15-minute walk from the residence halls to the Cathedral of Learning or an 11-minute walk to The Pete!

Will there be a shuttle to the Pitt campus?

There are multiple ways to get to Pitt's upper or lower campus locations. In addition to walking or biking, there is a Pittsburgh Regional Transit (formerly Port Authority Transit) bus stop at the end of the driveway to the residence halls. All Pitt students ride Pittsburgh Regional Transit at no cost using their Pitt IDs. Pitt students also have access to SafeRider, which provides complimentary transportation during the evening and early morning hours for Pitt students. For more information and usage guidelines, visit the Parking, Transportation, and Services website.

What student and housing rules will apply to Pitt students?

Pitt students – including those residing at Carlow – must follow Pitt's code of conduct, housing rules, and guest policy.

Will there be religious requirements?

Equity, diversity, and inclusion are core values at Pitt, and respect for these values continue to be expected among all Pitt community members. Students will not be asked to follow religious requirements, and religious-affiliated items will not be in their residence upon arrival, including those residing at Carlow.

What is the process for Pitt Arrival?

Students assigned to Frances Warde or Dougherty Halls will follow a similar process to all other Pitt students who are moving into campus housing. You will park in front of the residence hall to unload. After unloading, you will then be directed to park in a parking lot on Carlow's campus. Additional arrival information is posted on the Arrival website.

When will Pitt Arrival information be sent?

Students will receive arrival information via email to their Pitt email address by the end of July.

When are move-in and move-out for the fall 2022 semester?

Pitt students moving into Frances Warde or Dougherty Halls will follow the Pitt Arrival schedule and will move in on Saturday, Aug. 20. Arrival times will be scheduled from 8 a.m. – 7 p.m. Specific times will be posted on arrival.pitt.edu. All students will need to vacate their rooms by Dec. 18.

When are move-in and move-out for spring?

The students will regain access to their residence hall on Jan. 7, 2023. All students will need to be out by April 30, 2023.

What is the occupancy of the rooms?

Rooms are either double or triple accommodations.

What room amenities are included in Frances Warde and Dougherty Halls?

Double rooms include: two twin-size beds, two desks, two dressers, and two wardrobes
Triple rooms include: three twin-size beds, three desks, three dressers, three wardrobes, and three overhead storage units

Can we send our items to Carlow using Ship2Pitt?

Yes, students can send their belongings to Carlow using Ship2Pitt. Each student can create five pre-paid shipping labels, and deliveries will be conveniently routed through Pitt's warehouse for a security scan before they are sent directly to your residence hall room.

Is there a refrigerator or a microwave in each room?

A microwave and refrigerator will be provided in each room.

Are the rooms in Frances Warde and Dougherty Halls air-conditioned?

Yes, the rooms are air-conditioned.

Are there communal bathrooms in Frances Warde and Dougherty Halls?

Yes, there is a communal bathroom. There are three or four showers, two bathtubs, and four stalls.

Will there be housekeeping?

As with all of Pitt's student housing, housekeeping tends to the public and common areas of the residence hall but not the private rooms.

How do students submit maintenance requests?

Students inform the Resident Assistant (RA) when maintenance is needed. The RA notifies facilities maintenance.

Are laundry facilities provided on-site? If so, how much is a load?

Yes, laundry facilities are located on each floor and are free to Pitt students! Laundry fees are included in the housing rate. There are two washers and two dryers located on the floor.

Is there trash removal?

Yes. Trash is removed from a central trash room which is located on each floor.

Will there be a vacuum cleaner available?

No. We recommend that you bring your own vacuum.

Will there be a fitness center for Pitt students?

Students will have access to the Carlow fitness facility within the building, as well as usual student access to the University of Pittsburgh fitness facilities.

How will Pitt students be billed for their accommodations?

Students who reside in Frances Warde or Dougherty Halls will be billed just like other Pitt students. The housing costs will be applied directly on their student account at Pitt.

Can the student still have a meal plan?

Yes, Pitt students are required to have a meal plan. Their meal plan will be active at the University of Pittsburgh dining facilities only.

Will there be a security guard present during the year?

Yes. The Carlow University Police department is located in Frances Warde Hall, which is connected directly to Dougherty Hall. There is also a guard stationed at the lower door. Students must swipe their ID cards every time they enter the building.

Is there wireless internet access for the students?

Yes. As with other University of Pittsburgh housing locations, there is wireless internet throughout the residence halls.

Will there be cable television?

Yes, it is provided in each room.

Are students able to change rooms?

Room changes must be submitted through Pitt's Residence Life and will be processed based on availability.

Will the students have mailboxes? If so, what is the campus address for the student?

Each student is assigned a mailbox, which is located on the lower level of the University Commons. The student mailing address is Student Name, Box #  /  3333 Fifth Ave  /  Pittsburgh, PA 15213.

Are the students able to leave their belongings in the room during the winter break?

Yes.
Floor Plan
Dougherty Hall - 9th Floor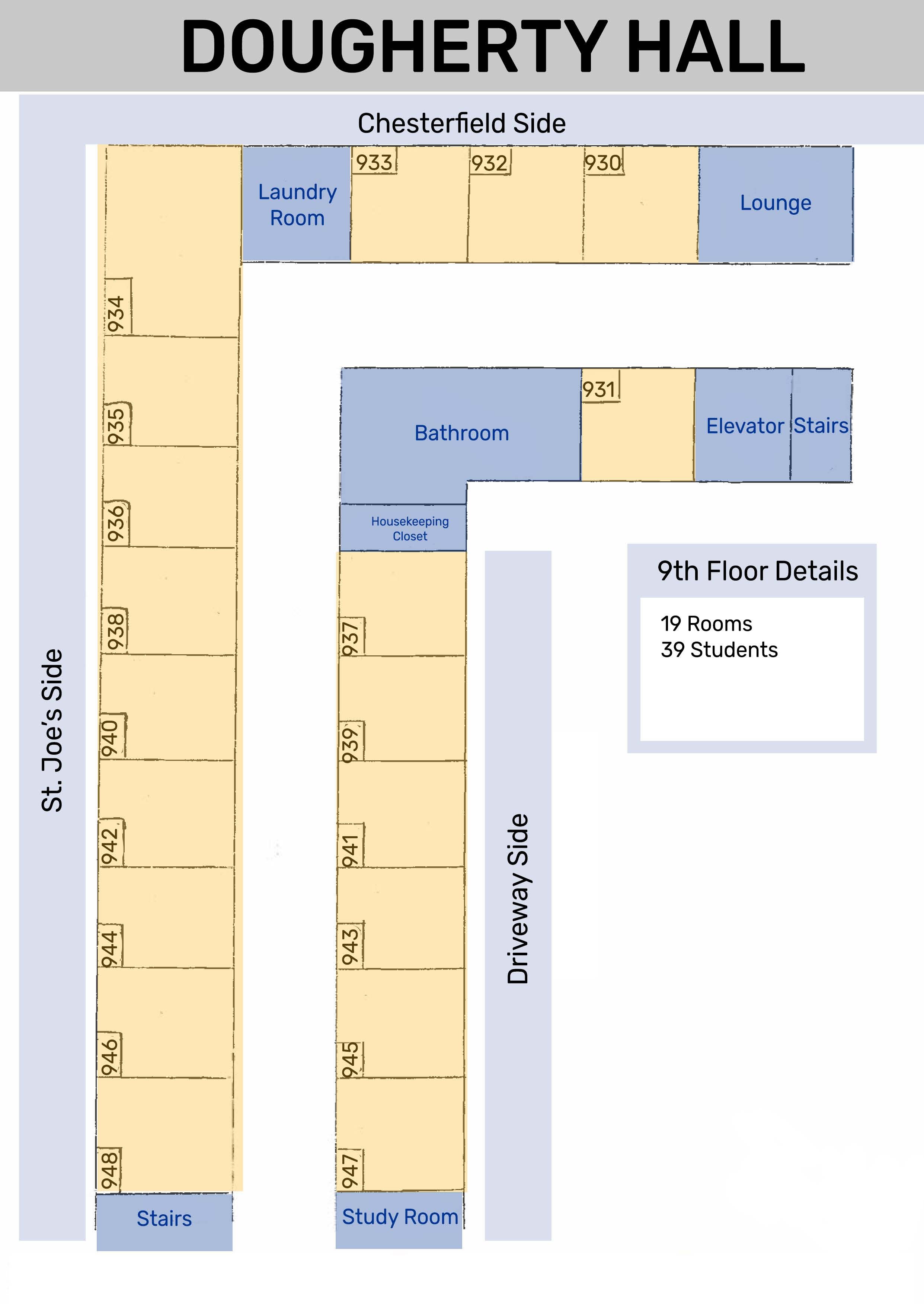 View Full Size
Dougherty Hall - 10th Floor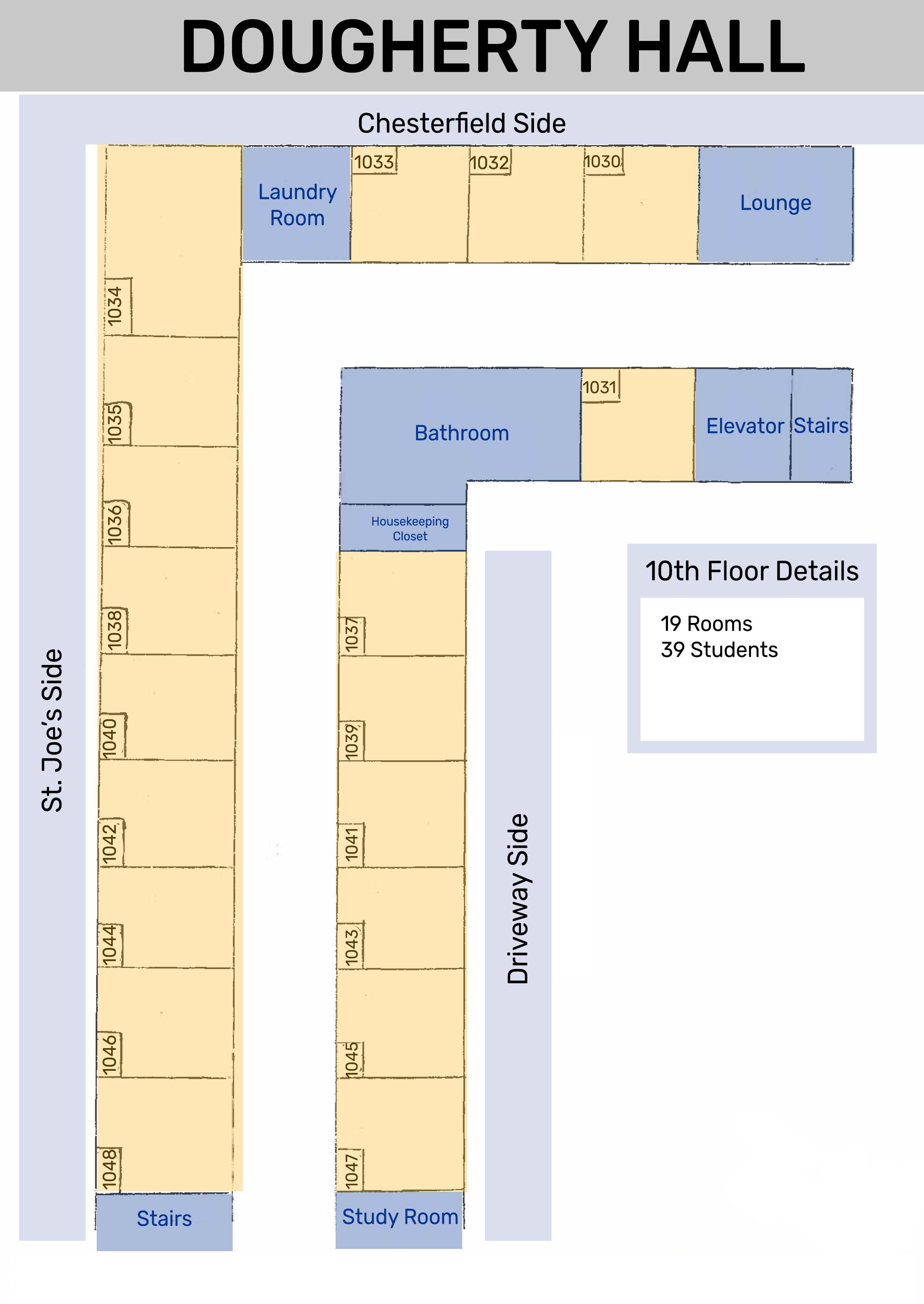 View Full Size
Frances Warde Hall - 1st Floor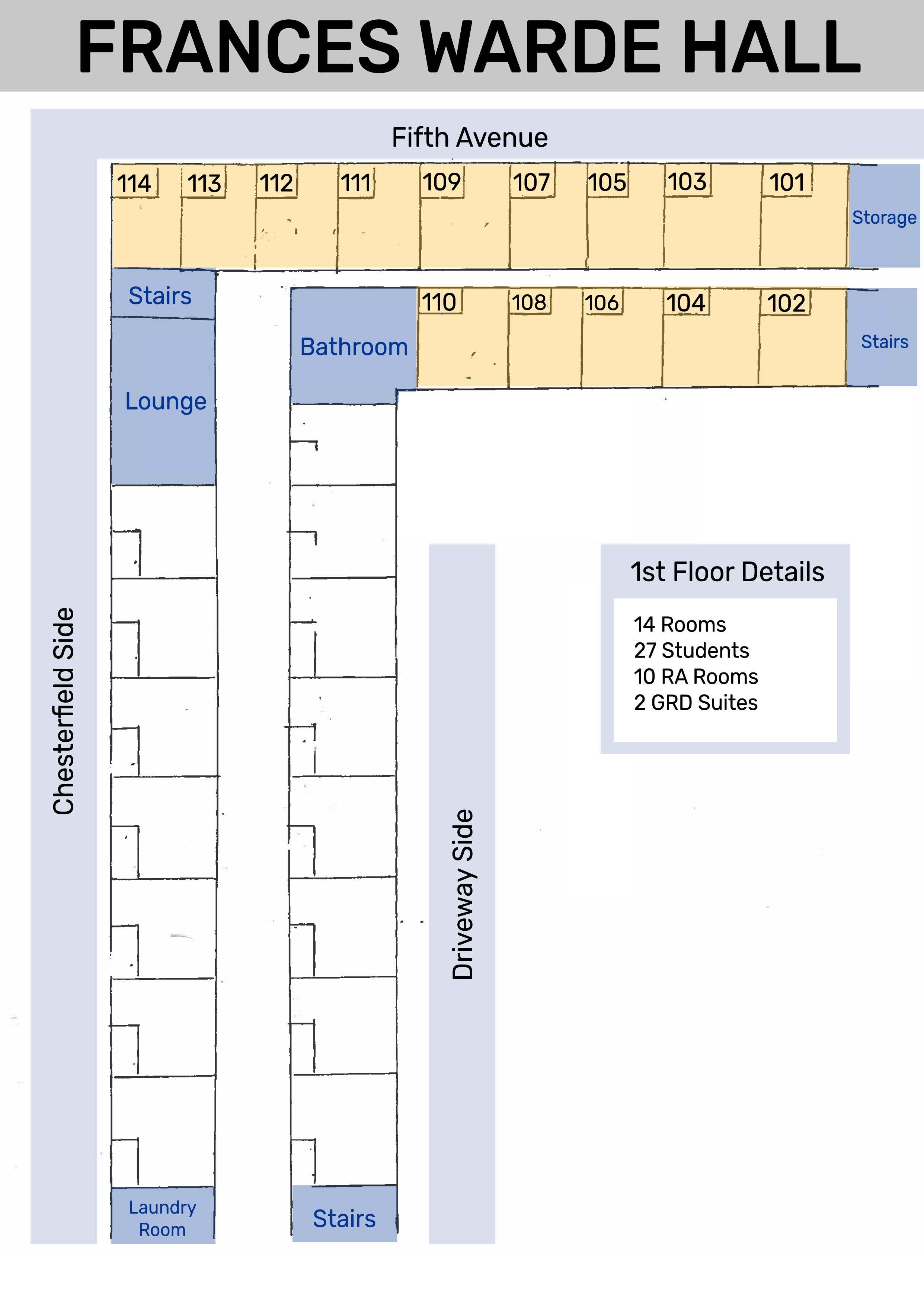 View Full Size
Frances Warde Hall - 2nd Floor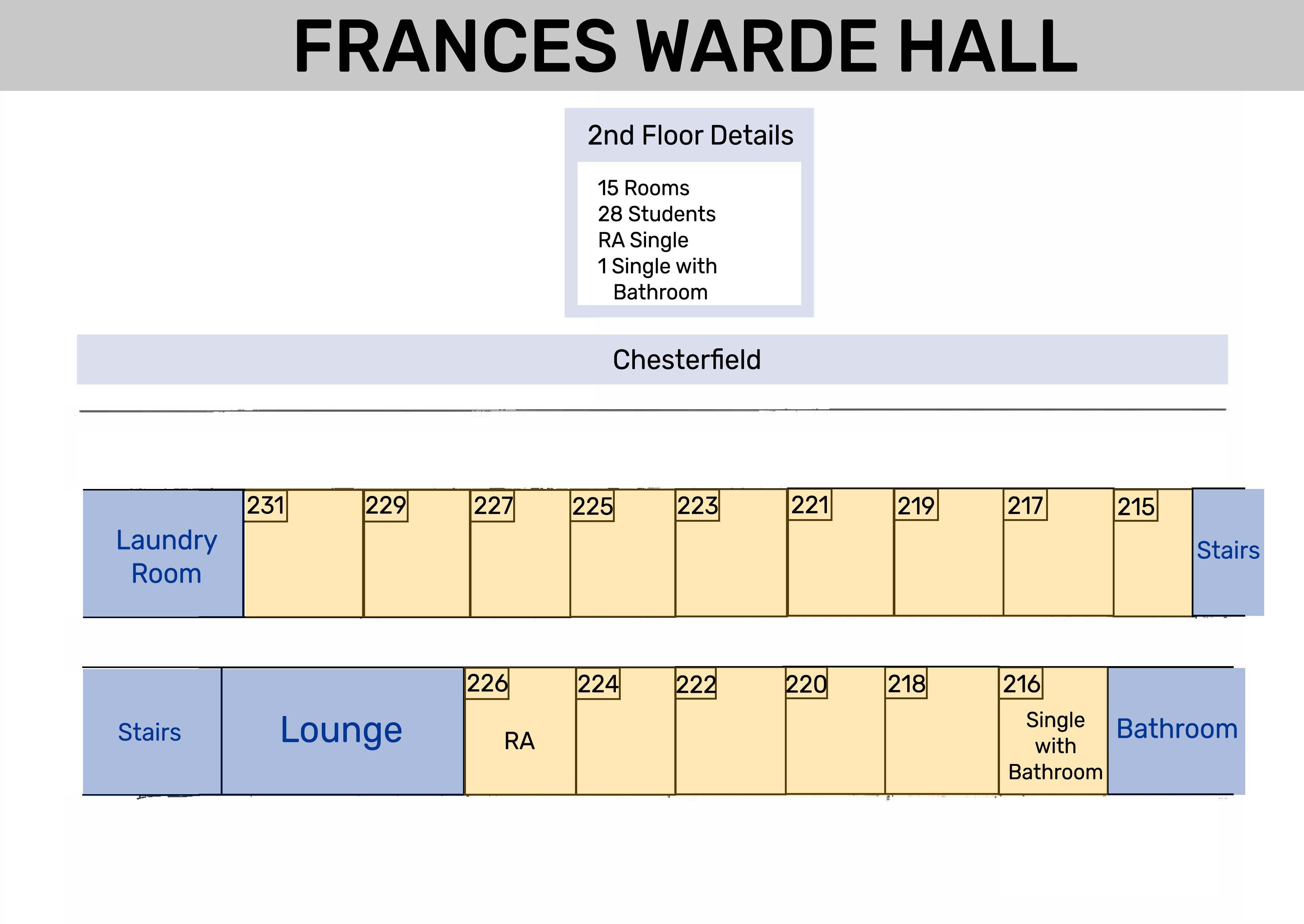 View Full Size