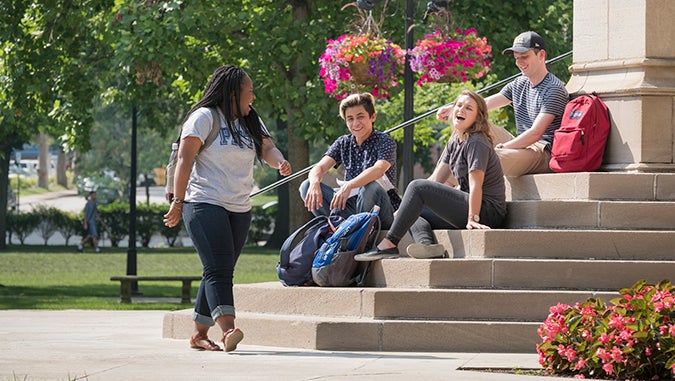 Your Panther card is your passport around campus and the city of Pittsburgh. Discover perks such as Panther Funds, free transportation, and sweet discounts.
Manage Your Panther Card
Panther Funds are a safe, convenient alternative to carrying a debit or credit card or cash. They are a free, available service to all University students, faculty, and staff. There are no transaction fees or minimum balances with Panther Funds. Plus, because the account is prepaid, there is no ability to overdraft and no debt from using the card. 
The Blackboard Transact mobile app makes it easy to load Panther Funds and manage your account. The app is one of six convenient ways to load Panther Funds.
Do More with Your Card
Get Moving
Show your Panther Card for free, convenient transportation around Oakland on University buses and shuttles and fare-free Pittsburgh Regional Transit transportation.
Go Shopping
Use your Panther Card to purchase food, beverages, merchandise, services, and more at participating merchants both on and off campus. Panther Funds can also save you money! Check out our Featured Business of the Week Promotion and Save 25% at select merchants each week throughout the semester.
Enjoy Campus Perks
Your Panther Card makes it easy for you to shop since Panther Funds are accepted at Pitt's three retail locations. Use your Panther Funds at Maggie & Stella's Cards & Gifts, The Pitt Shop, and the University Store on Fifth. You can receive Education Pricing on Apple products at the University Store on Fifth simply by showing your ID. 
Click here to shop the University Store on Fifth! 
Manage Your Money with PNC 
PNC makes it easy for you to keep track of your money at the University of Pittsburgh. You'll find a PNC branch in Nordenberg Hall and 12 PNC ATMs on campus. And with PNC Virtual Wallet Student® and the Virtual Wallet App®, managing your money is easier too. As a Pitt student and PNC customer, you can link your bank account to your Panther Card. Then, you can use your Panther Card as an ATM card.
For more information, visit the PNC Student Banking at Pitt website.
Virtual Wallet Student is a registered trademark of The PNC Financial Services Group, Inc.
©2022 The PNC Financial Services Group, Inc. All rights reserved. PNC Bank, National Association.
Member FDIC