Dining News
Find up-to-date information regarding dining news and announcements below. Have questions about dining services? Contact Panther Central.
 For a limited time only, you can add additional dining dollars to your account and receive free meal exchanges as an added bonus!
These add-ons are available now through November 25th in the following amounts:
1,000 Dining Dollars + 20 Free Meal Exchanges                   $1,000
750 Dining Dollars + 15 Free Meal Exchanges                       $750
500 Dining Dollars + 10 Free Meal Exchanges                       $500
You can also add smaller amounts of Dining Dollars without the extra bonus!
Dining Dollars and the free Meal Exchanges will roll over to the Spring Semester. 
To purchase an add-on:
Go to my.pitt.edu 
Search for Panther Central.
Click on 2020-2021 Housing Information and Applications.
If directed to PittPay, choose Make Deposit, then click Continue.
Choose Add Additional Dining Dollars.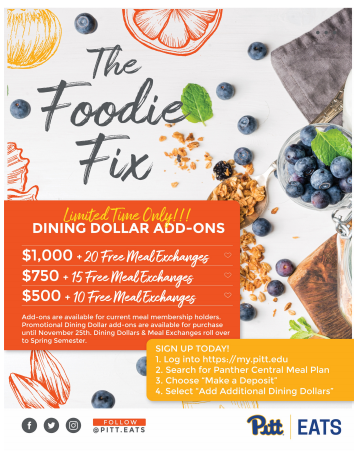 We're excited to announce new hours and Pitt EATS locations this fall, including the opening of both Einstein's locations at the Benedum and Posvar, along with the Cafe 1923 coffee cart at the University Club. 
View updated dining hours below: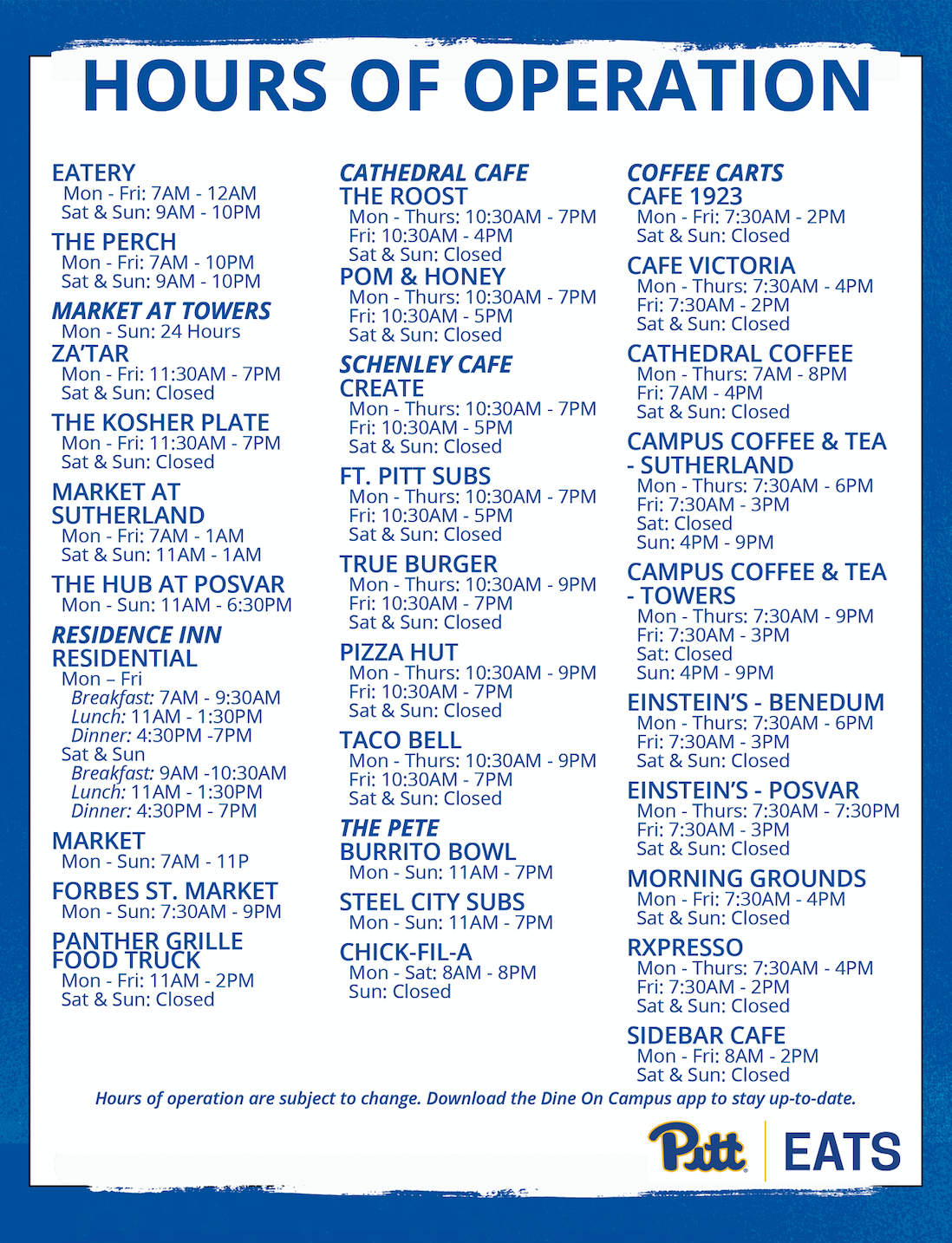 We're excited to share new meal plan options tailored to you through our new dining program, Pitt EATS!  
We now offer three kinds of meal plans to fit your needs: 
Unlimited Memberships 
Unlimited memberships help first-year students adjust to their new home away from home with easy access to dining. These plans are also available for commuters or upper-class students. Unlimited members can dine at The Eatery or The Perch and bring a friend – the plan includes ten guest meals per semester! If you'd rather visit an on-campus retail location, you can use one meal exchange per day. We offer weekday unlimited plans, too, along with Dining Dollar options for ultimate versatility. 

Lifestyle Memberships (The Foodie, Eat On The Run, Panther On The Go Plans) 
Pitt EATS offers lifestyle memberships customized to meet your needs. The Foodie includes one or two meals to use per day at The Eatery, The Perch, or for meal exchange at on-campus retail locations. Treat a friend with five guest meals as part of The Foodie and Eat On The Run memberships, and add Dining Dollars as needed. These plans are valid for the semester only – unused meals will not roll over from fall to spring. 

Dining Dollar Memberships 
Experience ultimate versatility with a Dining Dollar membership, available for anyone to purchase and reload as needed. Dining Dollars come with memberships or can be purchased in $200 or $350 amounts, which roll over from fall to spring and don't expire until the end of the spring semester. Use your Dining Dollars at any on-campus dining location and spend up to 25% of available funds at select off-campus locations. You'll also enjoy a 10% discount at all non-national brand locations to support local business! 
 
Learn more about your options and find the plan that works best for you!