Amos Hall
4022 Fifth Ave, Pittsburgh, PA 15213

| View Map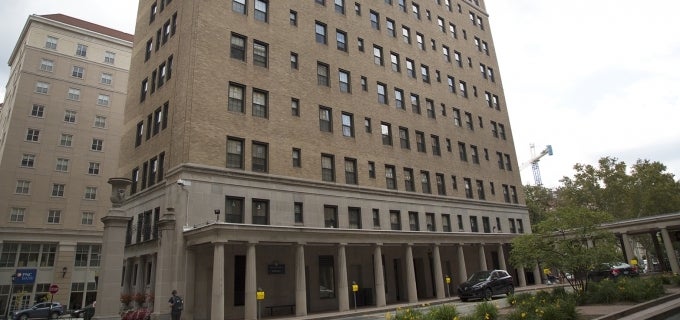 Student Population: Upperclass
Room Type: Suite
Housing Type: On Campus Housing
Details
Houses 135 women
Ten floors 
Sorority suites
Chapter room
Laundry facilities and fitness center 
Wi-Fi is available in all residence halls
Refrigerator and Microwave
*Bathroom dimensions: 5'6" x 5'6" or 1'8" x 4'2"
Fire safety—alarm and sprinkler system throughout; regularly scheduled fire drills
24/7 Security Coverage
Access to Housekeeping and Maintenance staff 24/7, 365 days a year
Basic cable television in each room/suite in residence halls and each bedroom and/or living room in apartment-style accommodations
*Dimensions for standard room only—others may vary by room type
Description
Amos Hall is part of the Schenley Quadrangle and houses nine sororities. The 135 upperclass residents live in sorority suites featuring a kitchen, private bathrooms, living room, and chapter room. Laundry facilities are located on each floor. The Schenley Quadrangle Fitness Center is located in Brackenridge Hall and available to all Schenley Quadrangle residents. Amos Hall is supported by the resident director and resident assistants residing in nearby Holland Hall.
Room Information
Room Rates* per Semester
Single: $3,975
Double: $3,975
* Room rates are subject to change.
**A meal plan is required for students residing in Amos Hall. 
Floor Plan
Typical Floor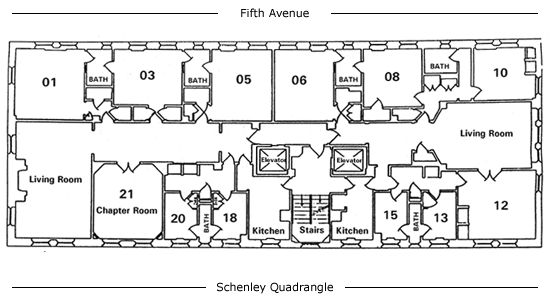 View Full Size