Forbes Hall
3525 Forbes Ave, Pittsburgh, PA 15213

| View Map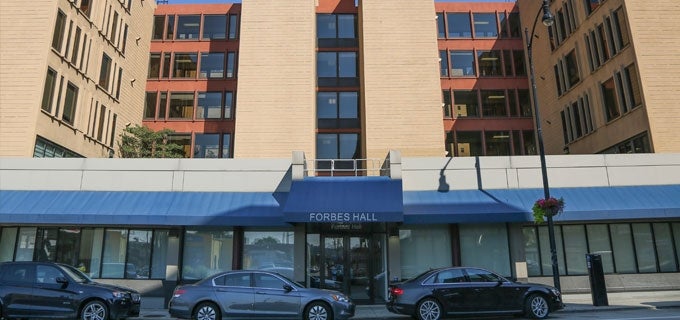 Student Population: First Year
Room Type: Double
Housing Type: On Campus Housing, First Year Housing
Details
Your safety and wellbeing are our top priority. View our COVID-19 modifications for on-campus housing, which are in effect for the 2020-2021 academic year.
Houses 232 students
Six floors
Air-conditioned doubles with adjoining semi-private restrooms
Communal shower facilities in each wing
Study room in each wing
Large recreation area
Rooftop patio
Student mail center
Swanson School of Engineering Living Learning Community
*Bathroom dimensions 4'7" x 4'7"
Fire safety—alarm and sprinkler system throughout; regularly scheduled fire drills
Access to Housekeeping and Maintenance staff 24/7, 365 days a year
24/7 Security Coverage
Access to daily delivery of the Post-Gazette, USA Today, and The Pitt News in select residence hall common areas accessible to all students
Basic cable television is provided in each room/suite in every residence hall and each bedroom and/or living room in every apartment-style accommodation
Wi-Fi is available in all residence halls
*Dimensions for standard room only—others may vary by room type.
Description
Forbes Hall is located on Forbes Avenue about four blocks from the Litchfield Towers complex. It houses 232 primarily first-year students in air-conditioned doubles. Some of the doubles have adjoining semi-private powder rooms. There are communal showers, a kitchenette, and a laundry area on each floor. There is a student mail center in the lobby of Forbes Hall. 
Each wing of Forbes Hall has a study room. A large recreation hall is on the second floor, and a rooftop patio overlooks Forbes Avenue. Forbes Hall houses the Swanson School of Engineering Living Learning Community. A resident director and four resident assistants are on staff.
Room Information
Room Rates*
per Semester
Single: $3,500
*Room rates are subject to change.
**A meal plan is required for students residing in Forbes Hall. 
Floor Plan
Typical Floors 3–6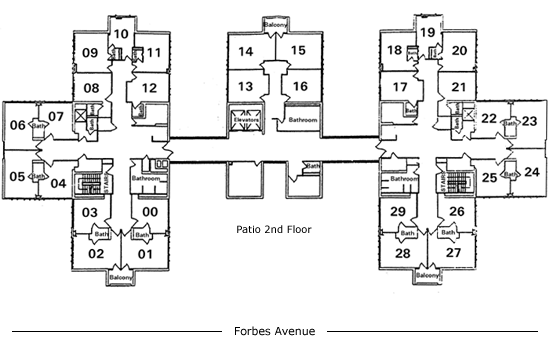 View Full Size