Holland Hall
3939 Forbes Ave, Pittsburgh, PA 15213

| View Map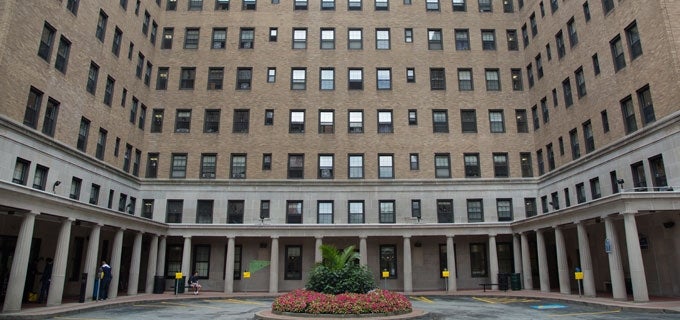 Student Population: First Year
Room Type: Single, Double, Triple, Quad
Housing Type: On Campus Housing, First Year Housing
Details
Houses 600 students
Ten floors 
Single, double, triple, and quad accommodations
All rooms are equipped with ceiling fans
Kitchenette on each floor
Communal bathroom/shower facilities in each wing
Lounge and study area in penthouse
Laundry facilities
Wi-Fi is available in all residence halls
Fire safety—alarm and sprinkler system throughout; regularly scheduled fire drills
24/7 Security Coverage
Access to Housekeeping and Maintenance staff 24/7, 365 days a year
Access to daily delivery of the Post-Gazette, USA Today, and The Pitt News in select residence hall common areas accessible to all students
A resident director and 17 resident assistants are on staff
Basic cable television is provided in each room/suite in every residence hall and each bedroom and/or living room in every apartment-style accommodation
Description
Holland Hall is part of the Schenley Quadrangle.The hall is divided into two wings—North and South—and houses 600 mostly first-year students in single, double, triple, and quad accommodations. There is a kitchenette on each floor as well as communal bathrooms and showers. The penthouse features a lounge, study area, and laundry facilities. The University Store on Fifth is located on the ground floor of Holland Hall, accessible from either the Schenley Quadrangle or from Fifth Avenue. The Schenley Quadrangle Fitness Center is located in Brackenridge Hall and is available to all Schenley Quadrangle residents.
Room Information
Please note that these dimensions are only approximate. Some room sizes may vary.
Single: 15.5' x 9'
Double: 15' x 13'
Triple: 13' x 20'
Quad: 18' x 21.5
Room Rates* per Semester
Single: $3,300 - $3,475
Double: $3,250
Triple: $2,800
Quad: $2,500
* Room rates are subject to change.
Floor Plan
Typical Floor: Floors 3-10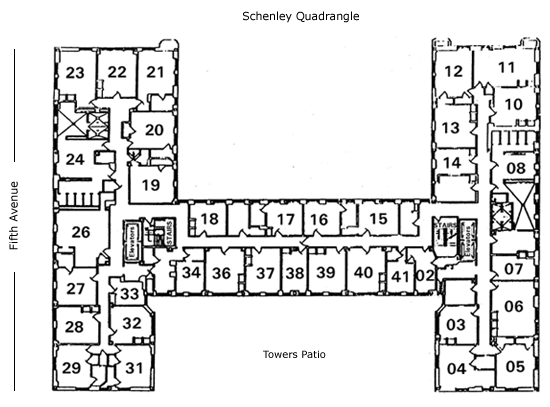 View Full Size