Litchfield Tower A
3990 Fifth Ave, Pittsburgh, PA 15213

| View Map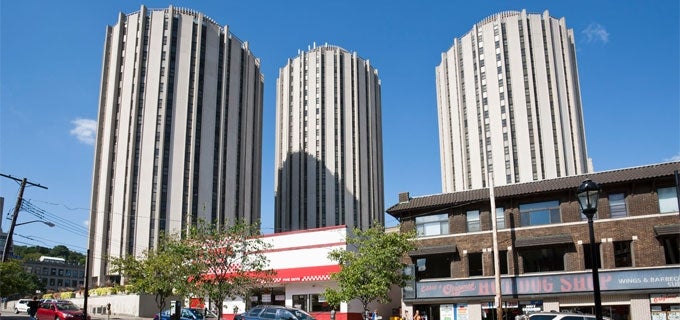 Student Population: First Year
Room Type: Double
Housing Type: On Campus Housing, First Year Housing
Details
Houses 664 students
Ninteen floors 
All rooms are air-conditioned doubles
Communal bathroom/shower facilities on every floor
TV/study lounge on every third floor
Wi-Fi is available in all residence halls
24/7 Security Coverage
A resident director, an assistant hall director, and 17 resident assistants are on staff
Fire safety—alarm and sprinkler system throughout; regularly scheduled fire drills
Access to Housekeeping and Maintenance staff 24/7, 365 days a year
Daily delivery of Post-Gazette, USA Today, and The Pitt News in select residence hall common areas accessible to all students
Basic cable television in each room/suite in residence halls and each bedroom and/or living room in apartment-style accommodations
Description
The Litchfield Towers comprise the largest residential complex on the Pitt campus. The three towers accommodate 1,868 students in air-conditioned singles and doubles. The lobby of the three towers houses a variety of offices and facilities. These include Panther Central, the student mailroom, fitness center, laundry facilities, vending machines, and Common Grounds coffee cart. Market Central made-to-order dining is located on the lower level, as well as Market To-Go (take-out), and Quick Zone. A skywalk from the lobby spans Forbes Avenue, providing convenient access to the academic buildings south of Forbes.
Tower A houses 664 residents, most of them first-year students. All rooms are air-conditioned doubles. There are communal bathrooms and showers on each floor. A TV/study lounge is on every third floor.
Room Information
Rooms are approximately 17' x 11'. The closets are approximately 4' x 2.5' and have wire frame shelves. Three shelves are approximately 2' x 1.25' and one shelf is approximately 3.25' x 1.25'. A space that is sectioned off from the rest of the room serves as closet space. It is open and does not have a door or curtain. 
Room Rates per Semester*
Single: $3,400
* Room rates are subject to change.
**A meal plan is required for students residing in Litchfield Tower A. 
Floor Plan
Floors 3, 6, 9, 12, 15, 18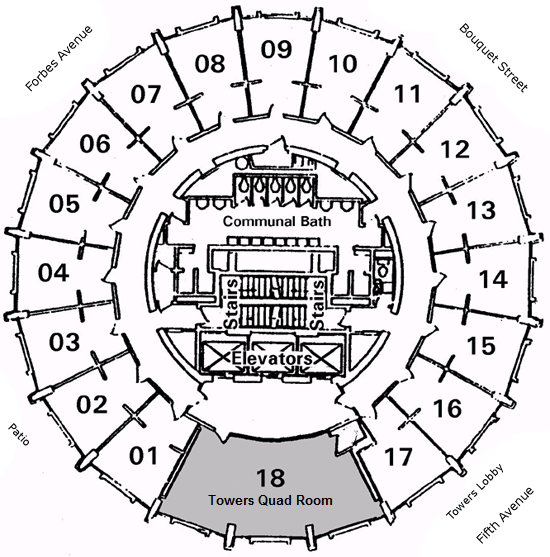 View Full Size
Floors 2, 4, 5, 7, 8, 10, 13, 14, 16, 17, 19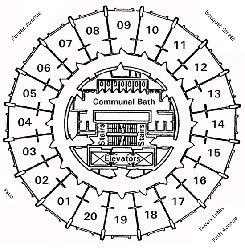 View Full Size