Litchfield Tower C
3990 Fifth Ave, Pittsburgh, PA 15213

| View Map
Student Population: First Year, Upperclass
Room Type: Single
Housing Type: On Campus Housing, First Year Housing
Details
Houses 435 students
Sixteen floors
Houses both first-year and upper-class students 
Air-conditioned singles only
Communal bathroom/shower facilities on every floor
TV/study lounge on every third floor
Wi-Fi is available in all residence halls
Fire safety—alarm and sprinkler system throughout; regularly scheduled fire drills
24/7 Security Coverage
A resident director, an assistant hall director, and 17 resident assistants are on staff
Access to Housekeeping and Maintenance staff 24/7, 365 days a year
Daily delivery of Post-Gazette, USA Today and, The Pitt News in select residence hall common areas accessible to all students
Basic cable television in each room/suite in residence halls and each bedroom and/or living room in apartment-style accommodations
Wi-Fi is available in all residence halls
Description
The Litchfield Towers comprise the largest residential complex on the Pitt campus. The three towers accommodate 1,868 students in air-conditioned singles and doubles. The lobby of the three towers houses a variety of offices and facilities. These include Panther Central, the student mailroom, fitness center, laundry facilities, vending machines, and Common Grounds coffee cart. Market Central made-to-order dining is located on the lower level, as well as Market To-Go (take-out), and Quick Zone. A skywalk from the lobby spans Forbes Avenue, allowing convenient access to the academic buildings south of Forbes.
Tower C houses 435 students. There are communal bathrooms and showers on each floor. A TV/study lounge is on every third floor.
Room Information
| | | |
| --- | --- | --- |
| Accommodation | Rate Per Semester  | Meal Plan Required |
| Single | $3,755 | Yes |
Rates are subject to change. 
Floor Plan
Floors 2, 4, 5, 7, 8, 10, 11, 13, 14, 16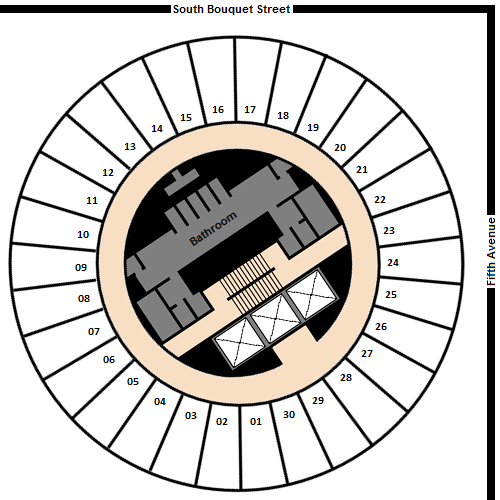 View Full Size
Floors 3, 6, 9, 12, 15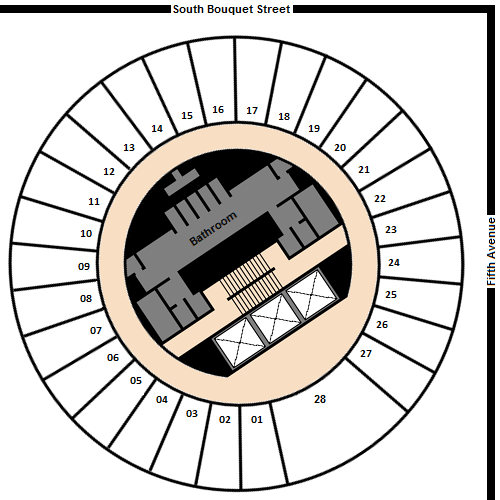 View Full Size