Nordenberg Hall
111 University Pl, Pittsburgh, PA 15213

| View Map
Student Population: First Year
Room Type: Double, Triple
Housing Type: On Campus Housing, First Year Housing
Details
Houses 559 students
8 Floors of Living Accommodations
TVs, Room Refrigerators and Microwaves in all Rooms
Fully Air Conditioned in all Rooms
Communal Showers on each Wing
Lounges on each Wing
Large Fitness Center
Laundry Rooms on every Floor
Print Station
2- Music Booths on 3rd Floor
3rd Floor Patio Area
Student Mailroom
Indoor Bike Lockers
Wireless Network
The Wellness Center on the 2nd floor
University Pharmacy
24/7 Security Coverage
Access to Housekeeping and Maintenance staff 24/7, 365 days a year
Access to daily delivery of the Post-Gazette, USA Today, and The Pitt News in select residence hall common areas accessible to all students
Basic cable television is provided in each room/suite in every residence hall and each bedroom and/or living room in every apartment-style accommodation
Wi-Fi is available in all residence halls
Description
Mark A. Nordenberg Hall is our newest residence hall, housing 559 first-year students in air-conditioned doubles. Each floor offers two large lounge areas, two smaller study lounges, communal bathrooms, and a laundry room. Special building features include a fitness center, two music practice rooms, a print station, and wireless internet throughout the building. The building is also certified LEED Silver for its sustainable design and amenities.
The Wellness Center, consisting of Student Health and Counseling, is located on the second floor of the building. Retail space and the University pharmacy are located on the first floor, which is accessible from Fifth Avenue. A resident director and 16 resident assistants are on staff in Mark A. Nordenberg Hall.
Room Information
| | | |
| --- | --- | --- |
| Accommodation | Rate Per Term | Meal Plan Required |
| Double | $4,140 | Yes |
| Triple  | $3,915 | Yes |
Rates are subject to change. 
Floor Plan
Floor 3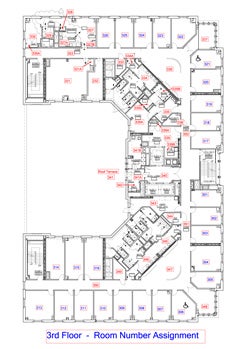 View Full Size
Floors 4-10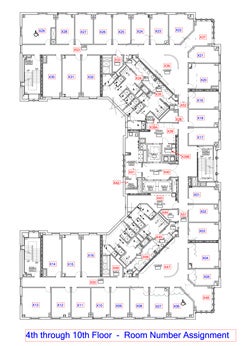 View Full Size