Sutherland Hall
200 Allequippa St, Pittsburgh, PA 15213

| View Map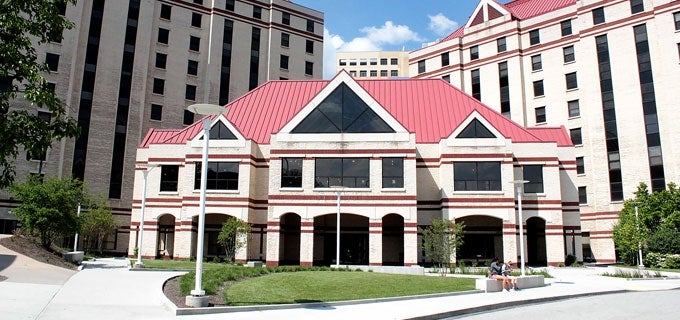 Student Population: First Year
Room Type: Double, Suite
Housing Type: On Campus Housing, First Year Housing
Details
Your safety and wellbeing are our top priority. View our COVID-19 modifications for on-campus housing, which are in effect for the 2020-2021 academic year.
Houses 740 students
Ten floors 
Air-conditioned rooms with private or semi-private bathrooms
*Bathroom dimensions; 12'6" x 6'4" or 12' x 12'
University Honors College Living Learning Community
TV lounge or study room on each floor
Fitness center, laundry facilities, and meeting room in each wing
Commons area includes food court dining facility, coffee cart, computer center, and student mail center
Network connection for each student, including wireless internet in all on-campus accommodations
Fire safety—alarm and sprinkler system throughout; regularly scheduled fire drills
24/7 Security Coverage
Access to Housekeeping and Maintenance staff 24/7, 365 days a year
Daily delivery of Post-Gazette, USA Today, and The Pitt News in select residence hall common areas accessible to all students
Basic cable television in each room/suite in residence halls and each bedroom and/or living room in apartment-style accommodations
Wi-Fi is available in all residence halls
*Dimensions for standard room only—others may vary by room type
Description
Sutherland Hall is located adjacent to the Petersen Events Center on upper campus, next to the major athletic facilities. Providing a view of the entire University, Sutherland Hall houses 740 primarily first-year students. The air-conditioned rooms are mostly doubles with semi-private baths, and larger suites. There is a TV lounge or study room on each floor. Sutherland Hall's East and West wings share a commons area with a computer center, student mailroom and several dining amenities. Dining options include The Perch at Sutherland made-to-order dining, Hill O' Beans coffee cart, and the Quick Zone convenience store. There is a fitness center, laundry facility, and meeting rooms on the ground floor of each wing. The University Honors College Living Learning Community is located in Sutherland West. A resident director, an assistant hall director, and 15 resident assistants are on staff.
Room Information
Most rooms are approximately 17' x 12'.
Doubles feature private baths; doubles and triples are connected by shared baths. Five- and six-person suites with bath; eight-person suites feature two bathrooms.
Room Rates** per Semester
Double: $3,525 - $3,825
** Room rates are subject to change.
Floor Plan
West Wing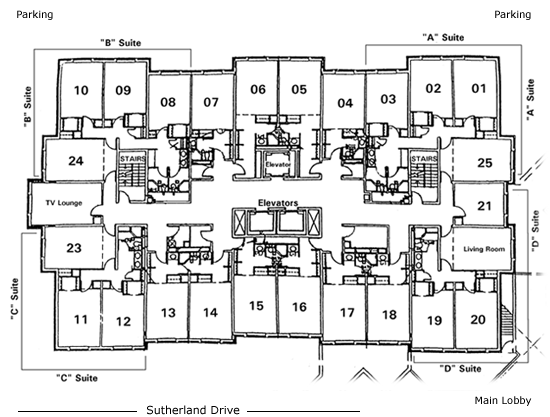 View Full Size
East Wing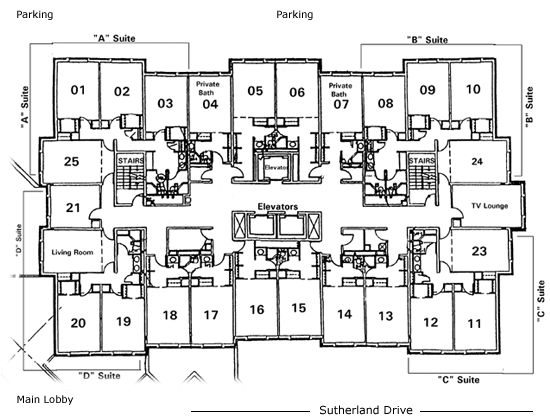 View Full Size