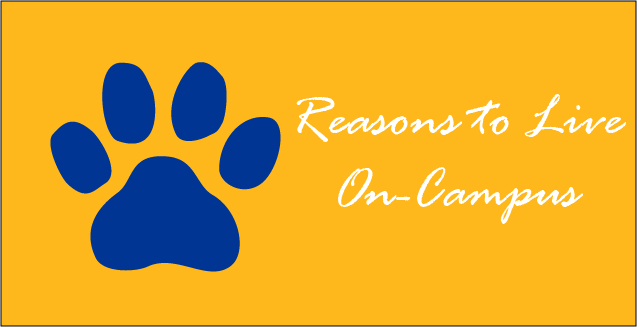 Furnishings and Maintenance
The University furnishes each residence hall room with carpeting, an extra-long twin bed, mattress, desk, chair, and dresser. Each room is also provided with either a wardrobe or closet, and either window curtains or blinds. Students will need to provide their own desk lamps and bed linens.
Basic cable television is provided in each room or suite in every residence hall by Comcast. To receive all available channels, students must bring HD/digital-ready televisions that are 720p or any variety of 1080i. Digital televisions must be equipped with QAM Tuners.
Residents have access to Xfinity On Campus. This streaming service provides On Demand and live TV content to any personal computer or mobile device. Through this service, students may record live TV and opt in for premium content. Visit xfinityoncampus.com or download the Xfinity Stream app to access this service.
Residence hall rooms feature wireless connectivity via MyResNet.
Students are responsible for cleaning their own rooms and private bathrooms within suite-style accommodations. Our housekeeping staff cleans communal bathrooms, lounges, hallways, and stairwells.
For emergency repairs and maintenance problems, students should contact Panther Central immediately. For routine maintenance, simply fill out an online maintenance request. 
Laundry 
Each residence hall has washers and dryers that operate with Panther Funds. LaundryView, available in our larger buildings, allows students to see a live 3-D model of the laundry room
from their computers so they always know when machines are available. 
Resident Directors & Resident Assistants 
A Resident Director (RD) is on staff in each residence hall to assist students with educational, recreational, and disciplinary issues. In addition, Resident Assistants (RAs) also live on most floors in the residence halls. RAs are upper-class students eager to help by sharing their knowledge and experience.
Resident Student Association 
The Resident Student Association (RSA) is the governing body of students who live in the residence halls. RSA provides input to the University on any and all aspects of on-campus life.
Security 
Each residence hall has a welcome desk staffed around the clock. When entering their residence halls, students must have the welcome desk attendant swipe their Panther Cards through a card reader. This security feature will verify their residence in that building, granting residents access to their building. Your Panther Card is programmed to provide access only to your own residence hall. Residence hall visitors also must present a photo ID and must be escorted by the resident student at all times. The security staff in each residence hall also assists in enforcing the University's visitation and alcohol policies. You can find these policies in full in the Residential Handbook. 
Print Stations 
Pitt Printing enables students to remotely send print jobs from any location to self-service print stations in locations across campus. There are self-service print stations located in ALL of our residence halls.
Living Learning Communities 
Within several residence halls, we have designated floors as Living Learning Communities (LLCs). These floors are for students who wish to live with others who share a special academic
or personal interest. In most cases, there are female floors and male floors available.
Office of Residence Life 
The Office of Residence Life in the William Pitt Union supports your academic success, social growth, and greater community connection. Residence Life staff provide information and programs that support your academic goals and personal development while you are at Pitt.
Transportation 
The University's bus and shuttle system serves each residence hall seven days a week, 24 hours a day. Our SafeRider services provide on-request drop-offs and on-call van transportation in the evening and early morning.
Other Amenities 
Several of our residence halls offer a wide variety of other convenient services and amenities. These additional resources include recreational facilities, fitness centers, community kitchens, computer centers, e-mail kiosks, coffee carts, and dining facilities.
View floor plans, room rates, and additional information about each residence option.