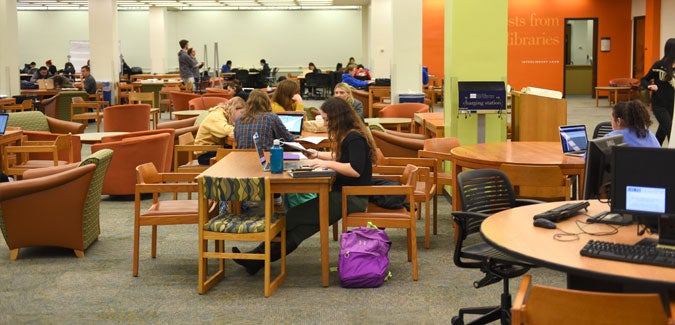 Your Panther Card gives you access to a wide range of University facilities and services:
Residence Halls
Only current residents have card access to the residence hall where they live. Each time you enter, the desk attendant scans your card, checks your photo, and returns your card to you. Refer to the Housing Policies or the Residential Handbook (PDF) for information on guests and visitors.
Laundry Facilities
All University housing buildings have washers and dryers that operate with Panther Funds stored on your Panther Card. Students using Panther Funds will be charged $1.00 per load of laundry. Students living in Fraternities will have access to coin operated machines and will pay $1.25 per load.
Meal Plans
Present your Panther Card at any campus dining location to access your Meal Plan. You may also access your Dining Dollars Usage Report at the Panther Central Community via My.Pitt.edu. View instructions »
Libraries and Computer Labs
Your Panther Card is also your library card. Present your card at any University library to borrow books and other materials. Use your card to access any of the computer labs on campus.
Fitness Centers
Swipe your card to shape up in the fitness centers in your residence hall, the Petersen Events Center, Trees Hall, or Bellefield Hall, Fitzgerald Field House or Cost Center.
University Buses & Shuttles
Show your Panther Card for free, convenient transportation around Oakland on University buses and shuttles and fare-free transportation through the Port Authority.
Health Service
Injured? Under the weather? Your Panther Card will get you some TLC at Student Health Service in Mark A. Nordenberg Hall, 111 University Place, 2nd Floor. Schedule an appointment at 412-383-1800. Open convenient hours to best accommodate your needs: 8:30am-7:00pm Monday, Tuesday and Thursday; 8:30am-5:00pm Wednesday and Friday; 10:00am-3:00pm Saturday.
Banking
Link your Panther Card to your Pitt Student Plan from PNC Bank and use it as an ATM card—get cash, make purchases—anywhere STAR or Plus are accepted. Visit www.pnc.com/pitt for details.
Please Note: To comply with the Department of Education's recent amendments involving cash management regulations, the University is informing students that they are not required to open or obtain a financial account through a specific financial institution.
Although the University has a relationship with PNC Bank, students are not required to open any type of PNC account (checking, savings, pre-paid card or consumer asset account) or to link their Panther Card with a PNC Bank account. Students may utilize banking services from any financial institution and are under no obligation to utilize PNC Bank for funding related to financial aid, including: Title IV, HEA program funds and Federal student aid.
If a student elects to utilize PNC Student Banking services, more information can be found on their website. You can read a summary of features and fees related to the PNC Virtual Wallet ® Student Account, and please be sure to read the full Virtual Wallet® Features and Fees and the Virtual Wallet ® Fine Print "What You Need to Know" for details concerning your account.
Certain information related to the University's agreement with PNC Bank, including the governing contract, is available here. The financial details surrounding this PNC Bank relationship are located here.
Community Merchants
Your Panther Card opens doors around town, too!
Cultural Attractions
The PITT ARTS program lets you use your Panther Card for free admission to some of Pittsburgh's most popular museums, including the Carnegie, the Warhol, Phipps Conservatory, and the Mattress Factory.