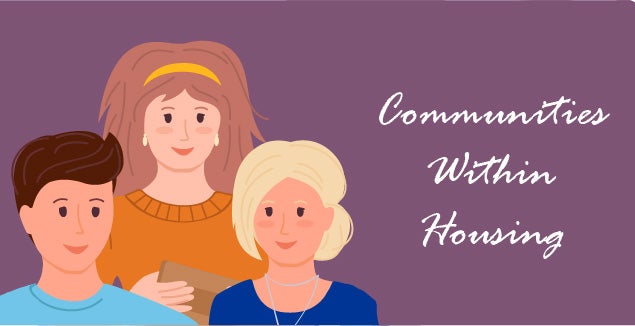 Living Learning Communities 
After completing the housing application online, you will be redirected to your previously indicated Living Learning Community Application, if applicable. When you request accommodation in a special living community, you must complete a supplemental application.
Note: By completing the LLC application, you are agreeing to live there if you are accepted. Upon being accepted, you will not be able to select other housing or participate in the suite/apartment-style bid process. There are no exceptions to this rule. By completing the LLC application, you are also agreeing to abide by the established guidelines and programs of that community.
You can obtain more detailed information regarding the criteria for special living communities from the Office of Residence Life. 
Gender Inclusive Housing
Gender Inclusive Housing is available for guaranteed, upper-class students wishing to live together regardless of sex, gender, identity, or expression. Gender Inclusive Housing is available in all suite and apartment-style housing. Additionally, students are able to apply for the Gender and Sexuality LLC, which is located in Lothrop Hall. 
Applying for Gender-Inclusive Housing 
To be eligible for Gender Inclusive Housing, student(s) will complete a Suite and Apartment-style Application. On this application, student(s) must indicate potential roommate(s), suite/apartment size, and Gender Inclusive Housing. A group leader is identified on the application. The number of students listed on the application must equal the designated suite or apartment capacity. A student may only participate as a member of one group. Any student found to be part of more than one group voids suite selection for members of all associated groups. Applications will be available online in January and are due back at Panther Central no later than February 9, 2023.
Gender Inclusive Selection Process 
A bid process is used to determine Suite and Apartment-style Selection, including Gender Inclusive applicants. This process is based on the information provided on the Suite and Apartment-style Selection Applications.
Each student of the suite or apartment group is given points for their class standing. Point distribution is as follows: rising juniors = 3 points, rising sophomores = 2 points. Panther Central determines the selection order among the groups based on the highest bid total. The lowest Housing Selection Lottery Number in each group is used to break ties among groups.
Panther Central will contact the group leader directly after suite/apartment bid winners are determined.
Gender Inclusive bid winners will NOT book themselves through the typical Housing Selection process. Instead, Panther Central will manually assign the group after speaking to the group leader. If groups do not win a bid, students are encouraged to participate in General Room Selection at their corresponding time.